"Jikuu Senshi Spielban"
―Spielban's roll call
"Ore no ikari wa bakuhatsu sunzen!"
―Spielban's catchphrase before the Arc Impulse finisher
Dimensional Warrior Spielban (時空戦士スピルバン, Jikū Senshi Supiruban?): A 20 year old man from the planet Clin. He took the name of Yousuke Jou (城洋介, Jō Yōsuke?) on Earth. When he shouts "Kesshou!" ("Crystallize"), the Grand Nasca showers "Clin Metal Super Corpuscles" upon him, which crystallize to form the silver, black and red suit around his body in 10 microseconds. Spielban's primary weapon is a sword, which then becomes the Twin Blade, a double-edged laser lance used to destroy the mechanoids and lifeforms with his "Arc Impulse" attack.
Biography
In a stage showwhere the Flashman

are seen fighting against the Reconstructive Experiment Empire Mess

, Spielban arrives and assists the team.
In a stage show where the Flashman are seen fighting Reconstructive Experiment Empire Mess, Spielban, Juspion, Shaider, Kamen Rider Super-1

, Change Dragon

& Mermaid

, Red One

, Green Two

, and Dyna Red

then arrive and assist the team.
In a stage show where the Maskman

are seen fighting Underground Empire Tube

, Kamen Rider Black

, Metalder, Spielban, Shaider, Red

& Blue Flash

, Change Dragon & Mermaid, Green Two and Dyna Black

arrive and assist the team.
Weapons
Vehicles
Ranger Key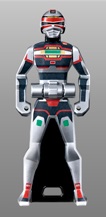 The Spielban Key (スピルバン, Supiruban Kī?) is a Metal Heroes Ranger Key

released as part of the Ranger Keys Metal Hero Edition in Bandai Premium. It is unknown if it will appear in a future crossover. Of course as with all Ranger Keys, should it exist, it would be able to transform

one, i.e. one of the Gokaigers

, into Spielban.

Behind the scenes
Portrayal
Yousuke Jou is portrayed by Hiroshi Watari (渡 洋史, Watari Hiroshi?), who previously played Den Iga, the eponymous hero of Uchuu Keiji Sharivan, making him the only actor to play two protagonists of a show in the Metal Hero Series. As Spielban, his suit actor was Kazuyoshi Yamada.
Recognition
Dimensional Warrior Spielban is featured as #99 in the 1986 archive compilation video Toei 100 Great Heroes Super Fight

.
Appearances
See Also