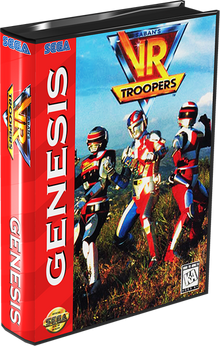 VR Troopers is a 1995 fighting game based on the Japanese/American syndicated television series of the same name originally by Toei Company and localized by Saban Inc.. The fighting game was developed by Syrox Developments and published by Sega.
Description
Grimlord has sent an arcade game to Tao's Dojo which ends up sucking Ryan Steele, J.B. Reese, and Kaitlin Star into Virtual Reality. For them to get out, they have to get by Grimlord's Skugs and monsters.
Troopers
Opponents
These are the opponents the player will face in order of appearance in the Genesis version.
Trivia
If one were to play as a Trooper against the Clone-Bot in the form of that trooper, the Clone-Bot's Trooper form will appear in a different color.
The video game contains a creature named Kamelion, as the final boss of the game who can shapeshift into any other playable character in the game and utilize their abilities. This creature does not appear in the series, yet is somewhat similar to the season 1 robot general, Zelton.
A version for the Super Nintendo was planned but did not surface.