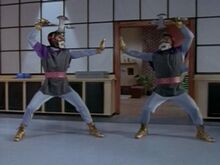 The Ultra Skugs are an "upgraded" form of Skugs, used with Tyler Steele's technology. They begin as regular Skugs in traditional Trooper battles, but can transform to this form of drastically different warriors by posing towards one another in a fighting stance. They are significantly more difficult in this form, however they could still be eliminated the same way as the regular Skugs (that is, by knocking them against one another).
See Also
Ad blocker interference detected!
Wikia is a free-to-use site that makes money from advertising. We have a modified experience for viewers using ad blockers

Wikia is not accessible if you've made further modifications. Remove the custom ad blocker rule(s) and the page will load as expected.