The Three Space Sheriffs - Gavan, Sharivan, Shaider Great Gathering! (3人の宇宙刑事 ギャバン シャリバン シャイダー大集合!!, San'nin no Uchuu Keiji: Gyaban, Shariban, Shaida Daishuugou!?, 03/08/85) is the forty-ninth and final episode of Uchuu Keiji Shaider, thus ending the Space Sheriff Trilogy. This conclusion is a crossover uniting the three Space Sheriffs, Gavan, Sharivan and Shaider.
Synopsis
Finally, the three Space Sheriffs Gavan, Sharivan and Shaider team up to defeat evil once and for all.
Plot
to be added
Cast
to be added
Notes
Though followed by fourteen different shows, the Space Sheriff Series would arguably remain the most recognized incarnation of the Metal Hero Series, celebrated by the video game The Space Sheriff Spirits (2006). A next generation revival of the Space Sheriffs would start in 2012 to commemorate the 30th anniversary of the Metal Heroes.

Kenji Ohba would have guest roles in Choujinki Metalder (1987-1988) and Sekai Ninja Sen Jiraiya (1988-1989) before returning as Retsu Ichijouji who transforms into Gavan once more in Kaizoku Sentai Gokaiger vs. Uchuu Keiji Gavan: The Movie (January 2012) as well as Uchuu Keiji Gavan: The Movie (October 2012), which introduces his successor Gavan Type G, Geki Jumonji (Yuma Ishigaki). Retsu appears one more time as a Galactic Union Police commander in Kamen Rider × Super Sentai × Space Sheriff: Super Hero Taisen Z (2013).
Hiroshi Watari would appear as recurring character Boomerang in Kyojuu Tokusou Juspion (1985-1986) before starring as Yousuke Jou, the protagonist of Jikuu Senshi Spielban (1986-1987). He later returns as Den Iga, transforming into Sharivan once more, in Uchuu Keiji Sharivan NEXT GENERATION (2014), which stars Riki Miura as the new Sharivan, Kai Hyuga.
This is the final appearance of Hiroshi Tsuburaya as Dai Sawamura. Tragically, he passed away in 2001 at the age of 37 years old. In place of the late Tsuburaya, Naomi Morinaga would return as Annie in Uchuu Keiji Shaider NEXT GENERATION (2014), starring Hiroaki Iwanaga as the new Shaider, Shu Karasuma.
DVD Releases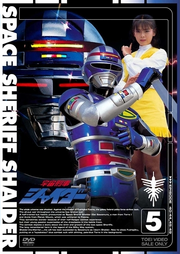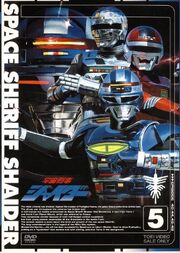 Uchuu Keiji Shaider Volume 5 features episodes 40-49.
Ad blocker interference detected!
Wikia is a free-to-use site that makes money from advertising. We have a modified experience for viewers using ad blockers

Wikia is not accessible if you've made further modifications. Remove the custom ad blocker rule(s) and the page will load as expected.