The Hair-Raising Spirit is the Guide to the Ghost World (総毛立つ幽鬼は死霊界への案内人, Sōkedatsu Yūki wa Shiryō Kai e no Annai Hito?) is the thirty-fourth episode of Uchuu Keiji Sharivan.
Synopsis
A new enemy, Reider is going to help Madou in defeating Sharivan.
Plot
to be added
Cast
to be added
Notes
to be added
DVD Releases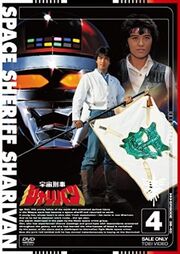 Uchuu Keiji Sharivan Volume 4 features episodes 31-40.
Ad blocker interference detected!
Wikia is a free-to-use site that makes money from advertising. We have a modified experience for viewers using ad blockers

Wikia is not accessible if you've made further modifications. Remove the custom ad blocker rule(s) and the page will load as expected.