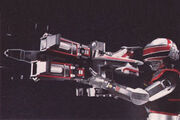 The VR Techno Bazooka is a very powerful laser weapon which J.B. mainly used to shoot down Virtual Fighters, but was also used to defeat the mutant Fanbot when the laser lance proved ineffective. It appears to be a transformed Sky Base, and was oftentimes apparently fired via hologram.
See Also
Ad blocker interference detected!
Wikia is a free-to-use site that makes money from advertising. We have a modified experience for viewers using ad blockers

Wikia is not accessible if you've made further modifications. Remove the custom ad blocker rule(s) and the page will load as expected.