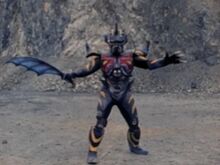 A shaman-like shark-themed robot who fought Kaitlin and J.B. in the present while Ryan traveled into the past to save his younger self from Strickland. Shark Fin was summoned by General Ivar and was used by Grimlord to guard the cave full of crystals used to access time travel. Shark Fin demonstrated irritation towards namecalling, becoming angry every time J.B. called him "fishface", similar to how Amphibidor reacted when Ryan called him "Frogger". In battle, Shark Fin could launch the fin-like blade on the top of his head at J.B. In the end though, J.B. brought about Shark Fin's doom with the usage of his "Laser Lance" command, causing him to finally drop his sword before falling over on top of it, impaled again, but this time with his own sword just before exploding. Shark Fin fits the category of General Ivar's Machine Men army.
See also
Ad blocker interference detected!
Wikia is a free-to-use site that makes money from advertising. We have a modified experience for viewers using ad blockers

Wikia is not accessible if you've made further modifications. Remove the custom ad blocker rule(s) and the page will load as expected.