Shaian is a multi-part tank vehicle that Shaider utilizes for various purposes. It is stored aboard Vavilos.
Sky Shaian
Sky Shaian is a fighter jet that can fire Shaian Beams and rockets.
Battle Shaian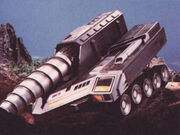 Battle Shaian is a drill tank that contains Shaian Rockets to attack enemy arsenals on the ground, or underground, rescuing people enslaved by Fuuma in the process. It is also equipped with a Shaian Searcher.

See Also
Ad blocker interference detected!
Wikia is a free-to-use site that makes money from advertising. We have a modified experience for viewers using ad blockers

Wikia is not accessible if you've made further modifications. Remove the custom ad blocker rule(s) and the page will load as expected.