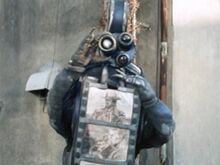 Half movie camera, half robot. Grimlord planned to use him to destroy the Troopers, and then photograph the loss for all to see. In battle, Photobot could blast a powerful laser from his camera lens-resembling eye. First JB and Kaitlin (who used her "Double Team command" in battle for the first time) attacked with a VR Double team, which didn't help much, and the Laser Lance impalement appeared to only tickle him, but the slashing finished him off as typical. Eventually defeated by JB's "Laser Lance" command while in battle. Afterwards, the two Kaitlins re-merge as one by saying "VR Kaitlin Double Team Retroform command, now!". Though he was created by Icebot, and merely tested by Ivar, Photobot fits the category of General Ivar's Machine Men army.
See also
Ad blocker interference detected!
Wikia is a free-to-use site that makes money from advertising. We have a modified experience for viewers using ad blockers

Wikia is not accessible if you've made further modifications. Remove the custom ad blocker rule(s) and the page will load as expected.