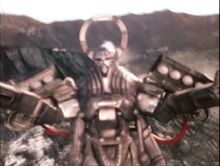 The samurai themed robot of General Ivar's Machine Men army attacked the Earth during the same time period when Ryan lost his memory. Laserbot fires lasers from the concealed machine gun-blasters on his arms. In battle, JB blasted the gem in the center of Laserbot's head, causing him to lose some of his power; he then meets his demise courtesy of JB's Laser Lance command.
Laserbot appears again in "Dream Battle" where he fights JB. JB once again defeats him, this time only by breaking the gem-like apparatus.
See also
Ad blocker interference detected!
Wikia is a free-to-use site that makes money from advertising. We have a modified experience for viewers using ad blockers

Wikia is not accessible if you've made further modifications. Remove the custom ad blocker rule(s) and the page will load as expected.