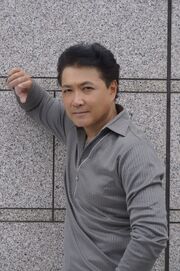 Hiroshi Watari (渡 洋史, Watari Hiroshi?) played Den Iga (Space Sheriff Sharivan) in Uchuu Keiji Sharivan. He debuted in episodes 42 and 44 of Uchuu Keiji Gavan, Retsu! Hurry! Dad! and The Neck of Don Horror. He also did suitwork for Sharivan in episode 22. He reprised Sharivan in the 2006 video game, The Space Sheriff Spirits.
He later played Boomerang in Kyojuu Tokusou Juspion.
He also played Yousuke Jou (Dimensional Warrior Spielban) in Jikuu Senshi Spielban. This makes him the only actor to play two different Metal Heroes.
In 2011, he made an announcement confirming that Sharivan would not appear in Kaizoku Sentai Gokaiger vs. Space Sheriff Gavan.
In 2014, he reprised his role of Den Iga for the direct-to-DVD film Uchuu Keiji Sharivan NEXT GENERATION.
External links
Ad blocker interference detected!
Wikia is a free-to-use site that makes money from advertising. We have a modified experience for viewers using ad blockers

Wikia is not accessible if you've made further modifications. Remove the custom ad blocker rule(s) and the page will load as expected.