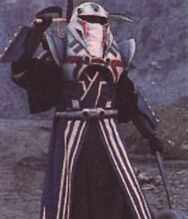 This hammer-wielding robot works for Grimlord. He is referred to as unbeatable, and destroys Zelton's The "Invincible" Blade to prove the strength of Decimator's army. Hammerbot is defeated, but not destroyed, when Ryan breaks off his helmet. Ryan almost destroys him with his own hammer while Hammerbot is defenseless, but decides to spare his life since the VR Troopers fight fair. Based on the dialogue from Defending Dark Heart, we can assume that Grimlord wasn't so generous. Hammerbot fits the category of Decimator's army.
Trivia
See Also
Ad blocker interference detected!
Wikia is a free-to-use site that makes money from advertising. We have a modified experience for viewers using ad blockers

Wikia is not accessible if you've made further modifications. Remove the custom ad blocker rule(s) and the page will load as expected.