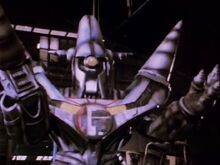 Drillbot is a drill-based robot assigned to steal J.B.'s VR Fighter Bike in order to extract its V6 engine for Grimlord. To lure J.B. and his bike to him, Grimlord sends the Skugs to hijack a school bus filled with children. Drillbot then appears on the scene and challenges J.B. to a fight. While J.B. fights Drillbot, Skugs try to dismantle the VR Fighter Bike to steal the engine, but the Bike is given an automated command and escapes the Skugs. Kaitlin saves the kids caught on the bus and quickly arrives to help J.B., who destroyed Drillbot with his "Laser Lance command" while riding the VR Fighter Bike. Drillbot fits the category of General Ivar's Machine Men army.
See also
Ad blocker interference detected!
Wikia is a free-to-use site that makes money from advertising. We have a modified experience for viewers using ad blockers

Wikia is not accessible if you've made further modifications. Remove the custom ad blocker rule(s) and the page will load as expected.