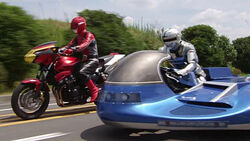 The Cyberion is Gavan's personal vehicle, which he uses to enter Makuu space. When he calls for it, this red Suzuki motorcycle with side car and flashing lights at the front comes from the Dolgiran to Gavan's current location. He occasionally uses it when fighting Makuu on Earth.
Gavan Type G also has a Cyberion. The only difference being that it is colored blue.
Ad blocker interference detected!
Wikia is a free-to-use site that makes money from advertising. We have a modified experience for viewers using ad blockers

Wikia is not accessible if you've made further modifications. Remove the custom ad blocker rule(s) and the page will load as expected.