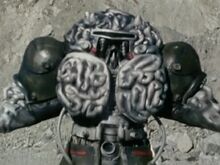 When the Troopers were turned into children, Grimlord took advantage by having General Ivar send Cranoid, a bulky robot with two brains on his chest. Crainoid underestimated young JB and Kaitlin. He was nearly defeated by the VR Double Team, blowing out everything inside of his main frame in the center, including the brains on his chest, but got up and continued to battle, stumbling over declaring that he wasn't dead yet. The loss of his brains resulted in a loss of intelligence as Crainoid still thought he had the upper hand as he mocked JB's Laser Lance as his "kiddie flashlight" after finally regaining composure, right before young JB successfully performed the "Laser Lance" maneuver and destroyed Crainoid's remains, not even bothering to impale him because there was little left to impale anyway. Crainoid fits the category of General Ivar's Machine Men army. Before his death, he refers to the Troopers as 'Tiny Troopers'.
He appears in the episode Small but Mighty.
See also
Ad blocker interference detected!
Wikia is a free-to-use site that makes money from advertising. We have a modified experience for viewers using ad blockers

Wikia is not accessible if you've made further modifications. Remove the custom ad blocker rule(s) and the page will load as expected.