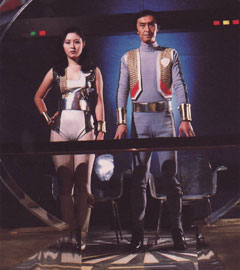 Commander Qom (Toshiaki Nishizawa) is the commander of Galactic Union Patrol, the father of Mimi and the uncle of Shelly. He lives on Bird Planet and helps Gavan, giving him information and training him to beat the Makuu. He and Gavan can communicate through a giant screen on the Dolgrian.
Ad blocker interference detected!
Wikia is a free-to-use site that makes money from advertising. We have a modified experience for viewers using ad blockers

Wikia is not accessible if you've made further modifications. Remove the custom ad blocker rule(s) and the page will load as expected.