Beautiful Secretary K (美人秘書K, Bijin Hisho Kē?) and Beautiful Secretary S (美人秘書S, Bijin Hisho Esu?) are Gozo's spies. They are as ruthless and cruel as their boss. S dresses in a black leotard and wears her hair tied behind her head. K has green leotards and lets her hair drape to the right side of her head. Both die in the collapse of the Ghost Bank, denied their attempt to escape by Coolgin in the guise of God Neros.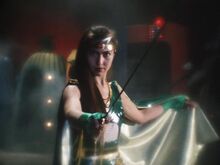 See Also
Ad blocker interference detected!
Wikia is a free-to-use site that makes money from advertising. We have a modified experience for viewers using ad blockers

Wikia is not accessible if you've made further modifications. Remove the custom ad blocker rule(s) and the page will load as expected.